The templates for Copy/Paste can be accessed in many ways. In order to use our templates, users must paste them into Excel in order to begin populating them. 
1. Attempting to Paste #
The first way to access the templates is by attempting to paste into GP with an empty clipboard or with one that is incompatible with Copy/Paste. TGP will recognize the error and open up a window that offers Copy/Paste templates. Simply choose the template that applies to you and it will be put into your clipboard. Paste the template into Excel and start populating!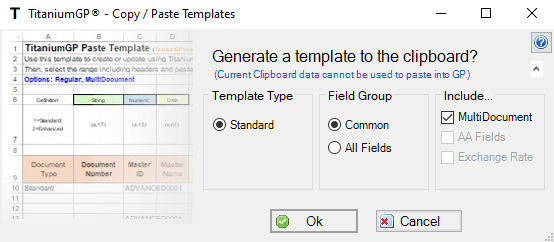 2. In the Control Desk #
The second way is to enter the Control Desk and enter the Copy/Paste settings (Home > Features > Copy/Paste). From there, users can access the Copy/Paste templates and are able to copy specific templates based on which template is selected. Paste these templates into Excel and you can start using them right away!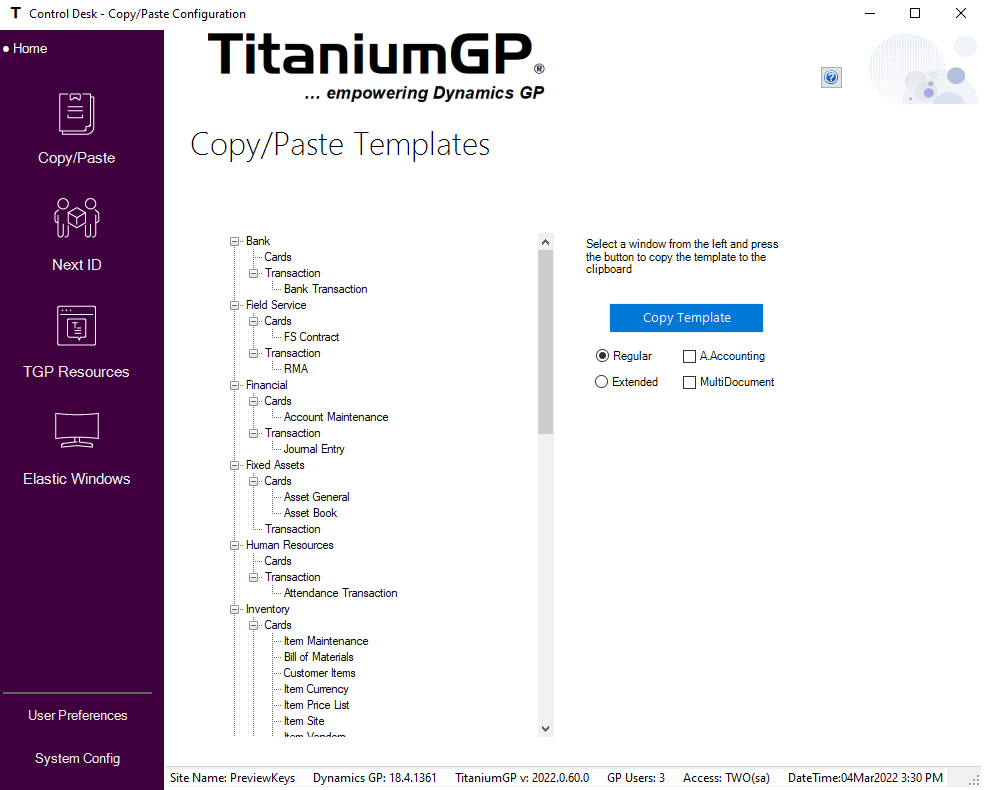 Rules for using Copy/Paste Templates #
There are certain things to keep in mind when using one of the TitaniumGP® templates: 
When selecting data to paste, the range needs to include the header that defines each column name; this will help TitaniumGP® to treat the data correctly

.

 

Empty rows and columns are automatically ignored by the program.

 

Not all the columns are required, only the ones whose

headers are in bold with a red asterisk.

 

Colors and any type of formatting is ignored.

 

If a cell has a formula, only the value is taken into account (when pasted from Excel).

 

The order of the columns is irrelevant if the headers are correct.

 

Numeric columns are transformed into the following:
                    – A single dash is converted to 0
                    – If a $ sign is included, it will be removed
                    – Commas will be removed
GL Account columns are processed in the following manner:
                    – If no dashes are included but all characters are, TGP will try to format the data appropriately
                    – Account aliases are converted to account numbers
                    – Dates are converted to yyyy/mm/dd for internal processing
                    – When updating master data, if a column/field is not included, the value will remain. 
For master data, if you need to clear a field value use

s

in the cell
TitaniumGP® templates can be found by either looking at the settings for Copy/Paste in the Control Desk or attempting to paste with an empty clipboard. 
Keep an eye on our social media for updates on changes coming to TitaniumGP. We hope to see you! Privacy Policy