COPY/PASTE
Data between Excel and Dynamics GP
Copy/Paste between Excel and Dynamics GP
Dynamics GP is a great tool for many companies and businesses. However, inputting data can get tricky, especially as the amount of data that needs to get input increases. TitaniumGP's Copy/Paste feature provides users with the opportunity to easily copy and paste data between Excel and Dynamics GP.
For example, TitaniumGP analyzes pasted data by putting it into the correct GP field regardless of the order of rows and columns in your Excel spreadsheet. With Elastic Windows, it's also easy to update information beyond the fields normally allowed by Dynamics GP. To do this, simply copy and paste those additional fields as you would any other set of data. As long as these fields have been created in your Elastic Windows interface, TitaniumGP will automatically populate them. Additionally, TitaniumGP can easily create multiple sales orders at once, all with just the click of a button.
Smart and simple templates
Use TitaniumGP's Copy/Paste to save time when importing large amounts of data or when editing pre-existing information. Finally, you can easily import multiple detail lines into over 100 Dynamics GP windows, including:
Journal Entries                                     SOP Entry
Purchase Orders                                 PM Transactions
Receiving                                              Inventory Transactions
Inventory Transfer                              Inventory Kits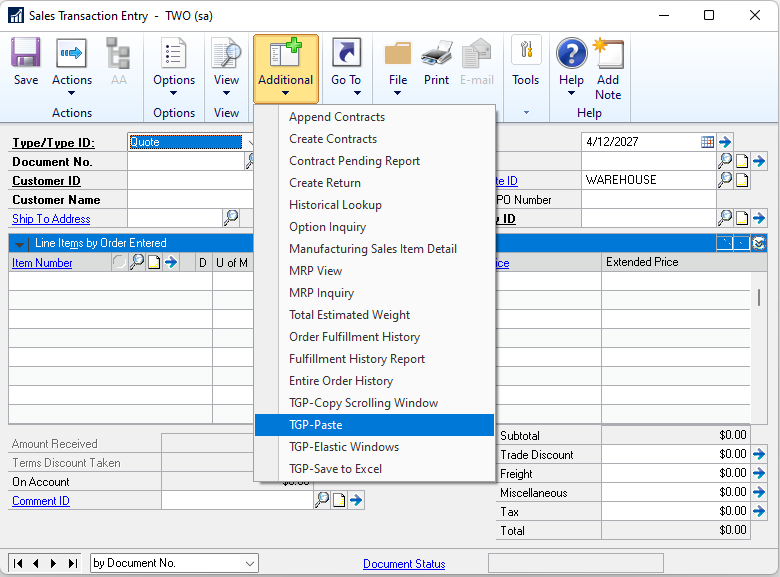 Easily bulk-update existing data in Dynamics GP using Copy/Paste
Instead of updating your information line by line, order by order, or batch by batch, TitaniumGP makes it fast and easy to modify your GP data in bulk. Based on your Excel data, this tool will automatically update existing information or create completely new sets of data. The best part is that TitaniumGP does it all with just two clicks: Copy in Excel, and then paste in Dynamics GP.
To demonstrate, check out the video below:
Office
1041 Market St., Suite #174
San Diego, CA 92101
Hours
M-F: 8am - 5pm (PST)
S-S: Closed
Contact Us
info@TitaniumGP.com
+1 855.238.8739