Elastic Windows and Designer
Customize your Dynamics GP windows to better suit your business
TitaniumGP Elastic Windows
With TitaniumGP's Elastic Windows, you can now add fields & business rules to your GP windows. This feature allows users to view these additional fields in a window within their GP workspace. 
As a result, the opportunity for growing the functionality of a Dynamics GP window becomes endless. Now, you can easily add new SQL fields of any type to the Microsoft Dynamics GP window (including UNICODE). Finally, you can also add additional view information that automatically changes as you move the cursor around the different elements in your GP window. It's easy to do with our customizable built-in features.
Design your own Dynamics GP Elastic Windows using Elastic Designer
With its out-of-the-box drag and drop designer, Elastic Designer allows you to attach SQL tables, fields, and views right into your Dynamics GP windows from both internal and external data sources.
Here are some typical fields/views that our customers have already easily added using Elastic Designer:
Inventory across warehouses
Unicode
Product images
eCommerce data
Vendor information
Additional customer data
TitaniumGP's Elastic Designer also makes it easy to add business rules and logic to check for predetermined conditions inside of Dynamics GP. Afterward, you can use the program to validate that those prices have been entered and that the warehouse assignments have been created. In this way, it makes GP easier to work with while also ensuring that the data being entered fits specified criteria. It's a dynamic new feature that takes Dynamics GP to the next level by allowing our customers to customize their workspace in a way that truly works for them.
Customize Microsoft Dynamics GP to meet your unique business needs and challenges by easily adding SQL fields and views to over 50 different Dynamics GP windows.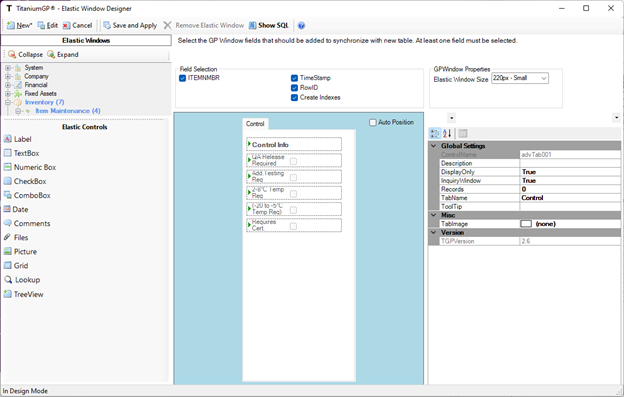 Office
1041 Market St., Suite #174
San Diego, CA 92101
Hours
M-F: 8am - 5pm (PST)
S-S: Closed
Contact Us
info@TitaniumGP.com
+1 855.238.8739