TGP+
With TGP+, users are now able to work in their company's GP environment directly through Excel, without ever launching Dynamics GP.
TGP+ 
TGP+ is now available!
TGP+ is now available to download! Click the link at the bottom of the page to download or install. 
TGP+ Ribbon
Seamlessly integrate TitaniumGP into your Excel workspace with this add-in, which gives users access to Dynamics GP directly from Excel. Users will enjoy the speed, convenience, and tools that Excel offers. Copy/Paste has also been brought directly into Excel, giving users access to easy-to-use templates and our brand-new forms.
TGP+ is also introducing a lot of never-before-seen features, including SmarterList, our smarter, faster, more convenient way of accessing SmartList directly through Excel. Users will also be able to perform data reconciliations and data verifications directly through the ribbon.
Additionally, users can create reports using SmarterLists and Excel's PivotTables feature. The reports and graphics created using PivotTables are refreshable, and can drastically reduce the amount of time it takes an employee to create reports.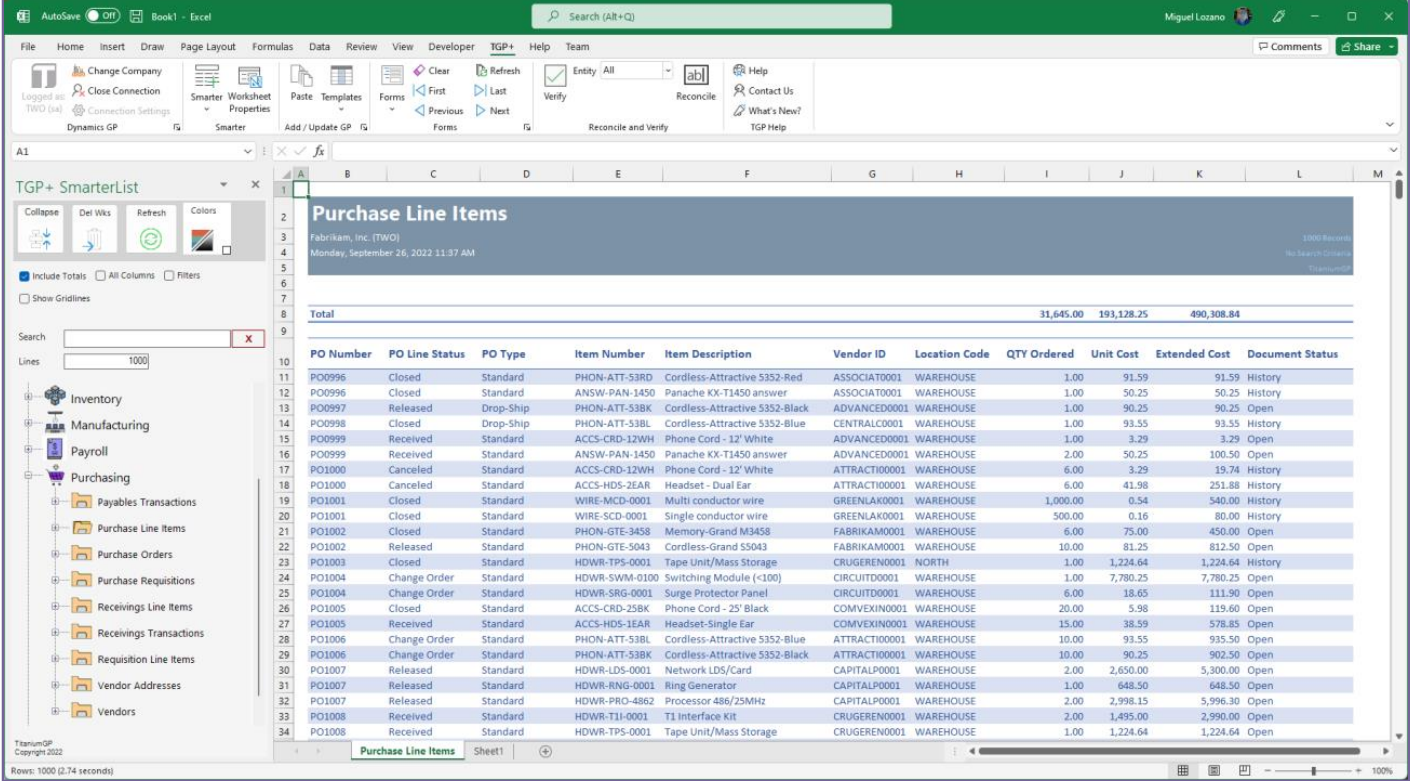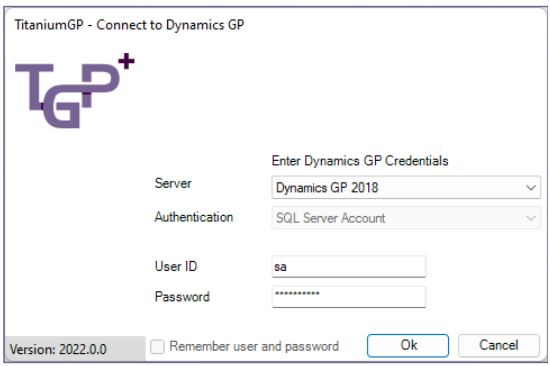 TGP+ Integration and Security
With TGP+, users will be able to input data into GP without ever having to open up Dynamics GP itself. This will allow companies to have more employees working in their GP database without using up valuable concurrent user licenses.
However, because users still have to log into TGP+ using their GP credentials, they will still only have the same clearance and access that they would have within GP. TGP+ also has limited offline functionality, but once logged in, users will be able to unlock all of it's amazing features.
TGP+ Functionality and Features
Reconcile data.
Data reconciliation is a long and slow process. Luckily, TGP+ can do it for you with just a few clicks. TGP+'s reconciliation tool takes the data you want to reconcile and searches for it in your Excel sheet. The entries that aren't present get flagged so that you can quickly identify the differences in your lists.
Sign Journal Entries you upload to Dynamics GP.
Dynamics GP doesn't support a signature functionality. Luckily, Excel does. TGP+ takes this Excel feature and makes it easy for users to create journal entries and transactions with a signature field. Once the user is done creating the entry, they can sign it before uploading. Once a document is signed, users are unable to make changes. If they wish to proceed with a change, the signature will become invalid.
Easily accessible templates for creating single entries and/or bulk-updating data.
TGP+ users will automatically have access to a variety of templates. Located in the ribbon, there are templates for both single entries and transactions as well as templates for bulk-updating data. These templates will make using Excel to update Dynamics GP windows easier than ever, since updating data will only require users to fill in fields.
Analyze data using refreshable PivotTables.
Excel's PivotTables are a powerful tool that can be used to analyze data. When TGP+'s SmarterList is used to create PivotTables and the data in SmarterList is updated (whether by you or another user), simply refresh both SmarterList and your PivotTable. The table and any associated graphs and graphics will automatically update to reflect the new data.
See these features and more in action below!
| | | |
| --- | --- | --- |
| Name: | | TGP+ |
| Version: | | 1.7.14.0 |
The following prerequisites are required:
 

Microsoft .NET Framework 4.7.2 (x86 and x64)

If these components are already installed, you can launch the application now. Otherwise, click the button below to install the prerequisites and run the application.
 
Keep an eye on our social media for updates on changes coming to TitaniumGP. We hope to see you! Privacy Policy
Office
1041 Market St., Suite #174
San Diego, CA 92101
Hours
M-F: 8am - 5pm (PST)
S-S: Closed
Contact Us
info@TitaniumGP.com
+1 855.238.8739